There's a trend percolating in online gambling and sports betting that brings to mind an old adage: just because you can, doesn't mean you should.
When it comes to the exploration of being able to place sports bets through smartwatch apps, the US online gambling industry needs to consider whether it's stepping over the line and if such a thing is really needed.
Of course, the trend is still more in the exploratory phase, but companies operating in the gambling space have flirted with the idea of taking sports bets through smartwatch apps for quite a while. It's unclear if there are any current plans to expand upon that premise but regardless, there could be unintended consequences such as an increase in problem gambling. People are already addicted to their devices without adding a gambling element.
US online gambling's previous forays onto smartwatches
So far, the activity along the lines of gambling apps for devices like the Apple Watch has been explorative for companies operating in the United States. Unibet, which offers online casino and/or sports betting products in multiple US states, has released its own Apple Watch app.
However, that isn't a gambling app, exactly. It's merely informational, allowing users to check in on horse racing and sports results.
Playtech, which offers live dealer games and other kinds of gambling content to US online casino operators, has developed an Apple Watch platform that could allow its partners to actually take bets via smartwatches.
In 2014, MicroGaming demonstrated its smartwatch gambling apps capability at the Mobile World Congress.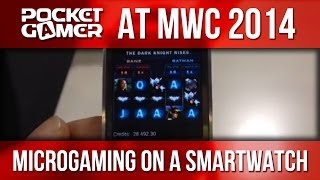 US online sportsbook operators have yet to really embrace this technology that MicroGaming and Playtech have introduced. That could change at any time, though. Gambling companies in the US have flirted with similar technologies.
Other integrations of online gambling into new applications
Earlier this year, Simplebet announced a partnership with DraftKings. The program involved is a new capability for the Connected Travel app in vehicles. It allows DraftKings account holders to use their cars' voice command features to place a bet on sporting events through DraftKings.
FuboTV has integrated the ability to initiate bets through its streaming television service while watching live sports. Again, though, the bets actually take place through a connected smartphone app. Bettors would have to not only have active accounts with Fubo but be using the service in either Arizona or Iowa, as those are the only two states Fubo Sportsbook has licensure in.
Philosophers have pondered the neutrality of technology, arguing that it is merely a tool with no inherent moral value. The use of that technology, not the technology itself, could exude or lack a moral quality, so the thinking goes. There has been some investigation into that premise when it comes to gambling.
Virtual reality casino and device addiction studies
In February 2017, Frontiers in Psychiatry used a virtual reality casino environment to look at whether virtual reality could be used as a cognitive behavior therapy to treat people who deal with pathological gambling issues.
Among their findings was that a virtual reality gambling experience produced responses in the participants similar to those they displayed in an actual physical casino. The anticipation and delivery of the game results, whether physical or virtual, were what the participants were after.
There is another type of "addiction" that merits discussion here, though. In January 2022, Slicktext shared the results of a survey regarding smartphone usage. Among the findings were that 22% of smartphone users "admitted to checking their device every few minutes."
While Wonlex argues smartwatches can actually alleviate "smartphone addiction" by reducing application features, among other things, that potential benefit diminishes if smartwatch apps become more functional, which is what gambling apps would achieve. That's a demonstration of how for people with pathological gambling issues, smartwatch gambling apps could be more of a liability than their smartphones.
Smartwatch gambling comes with many risks
Any time there is a discussion of responsible gambling, the discussion must include personal responsibility on each individual gambler's part. Each person bears responsibility for their own conduct when it comes to gambling.
However, gambling companies share responsibility as well. They need to carefully consider whether enabling customers to put a casino on their smartwatches is the responsible choice. There are a few material differences between smartphone and smartwatch platforms that could make smartwatch gambling apps more problematic.
As Skywood Recovery points out, people who struggle with gambling "often hide their issues." It might be easier to mask that behavior on a smartwatch than on a smartphone. Additionally, smartwatches' greater app accessibility could act as a more powerful trigger.
For example, a person who struggles with problem gambling might not be able to pull out a smartphone during a business meeting or family event, but a few quick taps on their smartwatch might be less of a social faux pas in those situations.
Furthermore, while a person can silence their phone and ignore any push notifications, the entire purpose of a smartwatch is communication. Again, that could mean more frequent and powerful triggers.
It's easy to argue that those who struggle with problem gambling can simply not use the technology in that way, but that argument is dismissive of the actual problem behind problem gambling. Those who struggle with gambling addiction are incapable of making such choices for themselves.
It isn't the job of gambling companies to protect problem gamblers from every possible trigger. They don't have to go out of their way to make it as easy to gamble as possible either, though.