There are currently six land-based casinos where Maryland players can place retail sports bets, and if everything goes to plan, the launch of legal Maryland online sports betting could happen by 2023. The best-case scenario is around MLB season.
Though several things still need to happen before the state launches mobile wagering, operators are making their intentions clear that they want in.
Though operator SuperBook Sports does not currently have a sports wagering licensee to operate in Maryland, it has found a way into the state. The world's largest sportsbook has agreed to a long-term partnership with the Baltimore Orioles, bringing a retail sports lounge to Oriole Park at Camden Yards.
The partnership is still subject to licensing and approvals from the Maryland Lottery & Gaming Control Commission.
Details of the SuperBook agreement and what fans can expect
SuperBook Sports is one of the first and the largest sportsbooks in the US, famous for offering a huge number of betting lines, including 400 prop bets for the Super Bowl alone. SuperBook Westgate Las Vegas possesses the largest sportsbook in the world with over 35,000 square feet and the world's largest 4K screen video wall.
The operator has been active in Nevada since 1986, and its online sports betting brand has expanded to other states. SuperBook mobile apps are available to Arizona, Nevada, Colorado and New Jersey players. SuperBook also entered Tennessee through the IGT deal.
Currently, SuperBook does not have a Maryland sports betting license, and the new partnership with MLB team, Baltimore Orioles, will be the operator's first pass into the state's regulated sports betting market.
The deal will involve building a retail sportsbook sports lounge at the club's Oriole Park at Camden Yards ballpark. Apart from the construction of the physical premises, the deal will include SuperBook branding within the premises, like a scoreboard in the center field, signage at home plate and on-site activations during games. The sportsbook's brand will also be included in the MLB Ballpark app and on the team's social media platforms.
The venue aims to offer a social atmosphere, with food and beverages and comfortable seating for fans. The sports lounge will allow fans to place bets simultaneously while watching live games, accepting both retail and online bets.
TJ Brightman, Orioles' chief revenue officer, said in a statement:
"The Orioles are thrilled to partner with SuperBook to enhance our one-day experience with the introduction of their first-ever local sports lounge. As our organization strives to build the next World Series contender in Charm City, we are constantly exploring unique opportunities to engage with Birdland's diverse fan base and welcome new visitors to downtown Baltimore. The addition of a SuperBook playbook only enhances our iconic ballpark's reputation as one of the premier entertainment destinations in the region."
Kristen Mackey, SuperBook Sports' VP of marketing, added:
"SuperBook Sports is excited about this partnership with the Baltimore Orioles. The heritage and tradition of the Orioles brand is a perfect fit with the SuperBook brand. To be a part of the 'ballpark that forever changed baseball' is an honor and we look forward to providing fans with a unique sports lounge experience."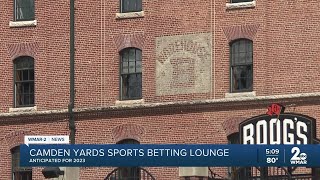 When can Maryland sports bettors legally bet with SuperBook and others?
While this year has been strong for Maryland casino revenue, Maryland online sports betting will most likely not launch until 2023. So, why the delay? One of the main reasons is that licensing and inspecting systems can require more work and takes more time than expected. And Maryland also has special considerations when it comes to issuing the online license.
The Sports Wagering Application Review Commission (SWARC) outlines rules and provides final approval for licenses in Maryland. The SWARC panel met on Aug. 10 to discuss mobile sports betting in the state as well as the possible launch date.
According to Jim Nielsen, Maryland Lottery and Gaming Control Agency's deputy director and chief operating officer, online sportsbooks may not be able to offer mobile sports betting in the state before the Super Bowl LVII in 2023.
Here's Md. Lottery and Gaming Control Agency COO Jim Nielsen this morning on that possible Super Bowl (Feb. 12) timeline for mobile sports wagering. pic.twitter.com/1hjxEyre7d
— Paul Gessler (@PaulGessler) August 17, 2022
As Nielsen emphasized, certain things still need to happen before US online sportsbooks start offering mobile products and services to players in Maryland. Here's the formula:
SWARC must ensure it is in the public interest to award a license to an operator
Maryland Lottery & Gaming has to make sure the applicant is qualified for the license.
Once the applications are filed, SWARC will review them, which according to Nielsen, can take at least 45 days.
Upon receiving the license, the applicant can have its internal controls inspected as well as conduct a controlled demonstration of its sports betting services.
The state also set goals for the operators that gain licenses to hire minority and women-owned businesses as subcontractors.
And while there's no solid date for the launch, it is speculated there could be as many as 60 sports betting sites entering the state.
Apart from SuperBook, top US sportsbooks like BetMGM, Caesars, DraftKings, FanDuel, and PointsBet already announced their presence and have partnerships in place for retail betting and will allegedly offer online wagers too.