Private Ontario online casino and sports betting apps are getting ready to compete with the Ontario Lottery's ProLine+. As the competition ramps up for launch day, it's a great time to take stock of the oncoming options.
Four mobile casinos and sportsbooks soon to start taking bets in Ontario have a decent shot of being among the most popular. One of those represents a brand that many Ontarians are already quite familiar with.
Ontario sports betting and casino apps soon to debut
The big day for private online casinos and online sportsbooks in Ontario is Monday, April 4. That's the launch day the province set for online casino and sports betting licensees to actually start taking bets.
Among those operators are a few brands that have become players in the United States market. They are BetRivers, FanDuel, and PointsBet. All three seem serious about competing for market share in Canada's most populous province.
As an example of that, PointsBet has closed marketing deals with entertainment properties like the Ottawa REDBLACKS and the famous trio from the television series "Trailer Park Boys." The latter collaboration has already seen some content.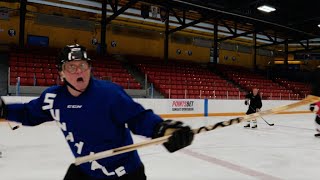 BetRivers has also already been running ads on television in the province. FanDuel executives have said they plan to take an approach of offering hyper-localized offerings and promotions for Ontarians. That might include a partnership with the Toronto Blue Jays, who are rumored to be close to an official sportsbook sponsor deal.
All three of these operators might have a tall task ahead of them in terms of catching up with another operator that a lot of Canadians likely already associate with sports, though. The action is already sort of ongoing there, too.
theScore Bet ready to capitalize on following
For decades, theScore has been one of the most popular sports media brands in Canada. While the company hasn't gained as strong of a fan base in the US, it does operate online gaming products in four US states. Now, it's set to make Ontario perhaps its strongest play.
Speaking of play, Ontarians can get in a position to do just that right now. Bettors in Ontario can pre-register for the online casino and online sportsbook app ahead of the April 4 launch.
To celebrate its launch, theScore Bet is holding a "Home Opener" launch party on April 2-4. Set for the Rendezviews on Richmond St. W. in Toronto, patrons who are at least 19 years of age can enjoy the limited-seating event.
theScore Bet hasn't shied away from using its personnel in marketing its products. For example, it's now running an ad campaign featuring comedian Gerry Dee. Also in the ads are Susie Essman and Rex Lee.
While ads have largely focused on sports betting so far, online casino competition should be fierce as well. Ontarians should pay attention to their emails and notifications over the next week, especially from theScore Bet, to look for promotions.
With its registration now open, theScore Bet is in a prime position to capture gamblers' attention. On that day, ON residents and visitors can start to determine which of these four online gambling apps they prefer.